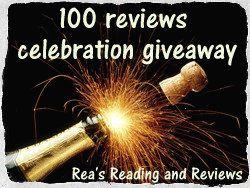 So I've reached 100 reviews! Woo!! Confetti!
If passing the 100 review mark doesn't deserve a giveaway, then I don't know what does!
Even better, because I'm feeling particularly excited about this landmark, I'm going to have three winners, upping everyone's chances of winning!
Apparently I'm fond of exclamation marks today!
So here's the dealio:
There will be 3 (

THREE

) winners.
Each winner will be able to choose their book of choice among all the books reviewed on this blog by the time the giveaway comes to an end. However, this book must already be published; I will not be pre-ordering books for the winners.
The winner will receive the cheapest version of their chosen book. I will not be ordering the US hardback version if a cheaper UK paperback version is available.
The books will be ordered with The Book Depository or gifted as a Kindle ebook on Amazon depending on whether the title is mainstream or indie published.
The winners will be contacted within 48 hours of the end of the giveaway. They will then have a further 48 hours to respond to my email before a new winner is picked.
As this is a celebration of reviews, for each review comment that you leave, I will award you an extra entry to the giveaway. Comments MUST contain more than just "great review" or "I love this book!" or they will not be counted.
Good luck!
a Rafflecopter giveaway